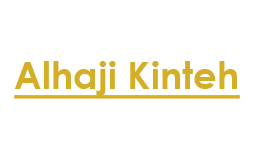 Counsellor:
To understand the dichotomy of the human condition, one requires empathy and understanding, and Alhaji Kinteh, through his experience in social relations, applies these attributes to his work with a non-judgemental and humble approach. He has counselled teenagers on the street and has succeeded in getting them to forsake their dubious activities and channel their enterprises into something more everlasting and productive.
Life Coach
Alhaji Kinteh believes in the potential of every human being to achieve whatever they set out to do, subject to their preparation in obtaining their objective. He has advised young people on economics, education, how to set up their business and how to become self-reliant.
Youth Mentor
Alhaji Kinteh is an active member in his local community where he works with young people deal with a hostile world. Young people often go through an age whether they can experience peer pressure at school or in their district, or troubles at home. Alhaji Kinteh is attentive and discreet and will readily provide information and assistance to all those who require it.
Philanthropist:
Alhaji Kinteh has lived and worked on three continents. On his travels in Africa, Asia and Europe, he has seen much suffering and hardship in places where people struggle through lack of medicine, food, shelter and water. And in many cases, it does not take much to help. So he has dedicated his life in providing that help to the needy and disadvantaged, not only by donating money to them, but by creating infrastructure and industries that will allow people to self-sustain and become self-sufficient in growing their own produce and to take care of their own communities.